GratingWorks fabricates various kinds of original holographic planar or aberration corrected gratings suited for optical fiber communications. All gratings are fabricated on ultra low expansion glass and are coated with gold. They are highly environmental stable and provide reliable performance. Groove density can be designed from 600 lines/mm to 1200 lines/mm. Their diffraction efficiencies meet the requirements of various applications in wavelength band S, C and L.
For low loss gratings, where only high efficiency at TM mode is required, their diffraction efficiencies are 90% and up at Littrow or near Littrow configuration over S, C and L bands. When the incident angle reaches 75 to 85 degrees, our gratings reach their theoretical limits.
For Low PDL holographic gratings, their groove density can be 600, 900, 1000 and 1100 lines/mm. The average diffraction efficiencies of TE and TM of these gratings are 85% and up and the PDL is less than 0.25dB in a specific band in S, C and L.
Efficiency Curves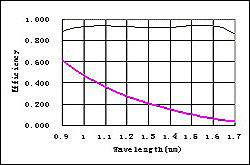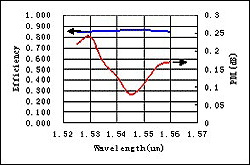 Perpendicular Polarization

 Parallel Polarization

 Average

 PDL